QA, QC & Testing
Detailed Functional Testing
Consider the purchase of an alarm clock (as shown in Figure 6, 'Alarm Clock' below). As part of quality checking, the alarm clock must be fit for the purpose it will be bought for.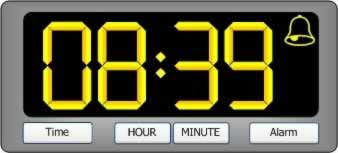 What type of functional testing would the alarm clock have to undergo?
The standard tests would include checking whether the following functions work as expected,
• date
• time
• alarm
These functional tests would include setting the time and seeing whether they can be set as per the instruction manual.
#TEST 1 Set the time to 12:03
Press and hold the TIME button,

Press the HOUR button twelve times,

Press the MINUTE button three times,

Release the TIME button

This test will be repeated with many different times to ensure that many different times can be set. Once these tests have been successfully completed then the next functional test could involve setting the alarm.
#TEST 2 Set the alarm time to 12:25
Press and hold the ALARM button,

Press the HOUR button twelve times,

Press the MINUTE button twenty five times,

Release the alarm button

The final part of this test is to check if the alarm does actually go off at 12:25.
If the time cannot be set properly then there will be no point in testing the alarm, as the alarm functionality requires the time to be working correctly.
There may be other functions available on the alarm clock such as a radio, 24-hour clock display, a light and maybe even voice controlled alarm deactivation. These functions would also require functional testing.
Summary
• Functional testing involves checking that the functions of a product work as expected.
• A products functions are defined during the requirements stage.